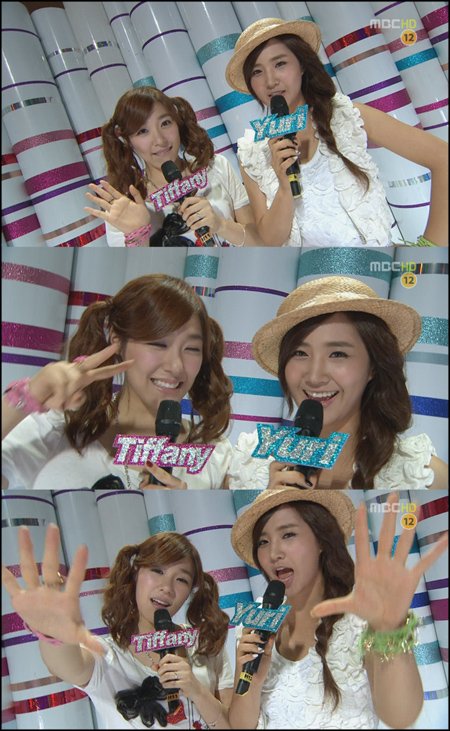 Tiffany and Yuri will temporary take a break from their MC place of MBC "Show! Music Core" for 3 weeks.

During the ending part of Music Core,both Yuri and Tiffany concluded "You guys will not be seeing us here for the next 3 weeks. During these period of time,there will be other MC to substitute us, you guys can't forget us oh~" saying it with aegyo voice. Representative of SM entertainment said,"The production team decided to give both of them 3 weeks break to let them have a rest and recharge their energy to the fullest".

Tiffany and Yuri had been taking over the MC of Music Core since last year April,when Bigbang Daesung and Seungri,and Solbi withdrawn from their MC position, till now.

In addition,at the start of the year,SNSD had released their 2nd album "Oh!" and also their repackage album "Run Devil Run",which had created hot atmosphere around them, and had been busy promoting and participated actively in their schedules.SNSD Asia Tour Concert has also been initiated.
video credit to
sonems01
Fanstaengoo & snsdlife@snsd-life.blogspot.com
~~~~~~~~~~~~~~~~~~~~~~~~~~~~~~~~~~~~~~~~~~~~~~~~~~~~~~~~
Besides, today music core also have many artists comeback stage as well such as WonderGirls, CN Blue and MBLAQ to perform their latest song. Let roll to watch ~~~~~~
CN BLUE - Black Flower + Love ComeBack Stage
Wonder Girls – 2 Different Tears
4Minute -Who's Next & Huh
MBLAQ – Y
Rain – Hip Song
f(x) – NU ABO
2PM – Without U
Lee Hyori – Chitty Chitty Bang Bang
Davichi - Time, Please Stop
Super Junior - BONAMANA
Secret- Magic
Videos credit to
CrazyCarrot220